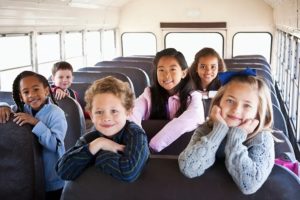 In 1988 I rode the church bus to Midland Baptist Church for the first time. I was 4 years old. And that started my years as a "bus kid." For the next 12 years, off and on, I would ride the bus to church.
I grew up in a home where Christ was never mentioned except as a curse word. My single mom did all she could to provide for her two boys and two girls after my father left when I was around 2 years old. She worked a lot. My grandmother, who also had been a single mom, tried to pick up the slack however she could. If it were not for dedicated and diligent bus workers, I'm not really sure if I would have ever known of salvation through Jesus Christ.
Thousands of young kids with stories very similar to mine are picked up on church busses every year. The bus ministry is a wonderful outreach through which many are saved and baptized. This is exciting! I was led to Christ by a conscientious worker when I was 7 years old. Many young people start riding busses, and eagerly trust Christ. Unfortunately, many of them ride for a short time and then fall away, or seemingly lose interest. Thank God that my life was salvaged through the bus ministry, and I am serving God today. Because of my experiences growing up on a bus, there are some things that my bus workers did well that made a great difference, and your bus kids wish for you to know this too (these are written from a kid's perspective):
– Be Patient With Me:
I'm used to doing things my way: what I want, how I want, when I want. Structure is new to me. I don't know what is good for me. I may be resistant, but that doesn't mean that I don't want structure or need it in my life.
– Give Me Your Undivided Attention:
I already fight for attention against the TV, the phone, the Internet, other vices, and other people – who seem to matter more – while I'm at home; I don't want to have to fight for your attention at church as well. When I am on the bus, talk to me, not the other workers.
– I Am Not A Number:
I'm not a kid to fill an empty seat or to help you win an attendance race. I really do have feelings (even if I don't show it). I want to be valued. I need someone to notice me. To care for me. To see me for who I am as an individual. I am an investment. I want to be encouraged, not just corrected. I want someone to enforce rules; that shows they really do care for me.
– Don't Allow My Family To Intimidate You:
My family is rough and not always polite. But they need Jesus, too. Don't avoid contact with them. If my parents get saved and become dedicated to Christ, my life will dramatically be changed for the better. Don't forget about those whom I love. Never stop asking them to come to church or sharing salvation and God's Word with them.
– Don't Assume That I'm Saved:
This Sunday may be my last time at church. I may not hear the gospel again. Make sure that you ask me often and keep the gospel the focal point. Make sure I understand. Eternity is at stake.
– I Want To Be Hugged:
I know that there are rules against physical contact, and they are for safety and propriety; but I want to know that I am loved. Show it!
– I Need You To Be My Greatest Influence:
You need to be more of an influence in my life than my friends who are involved in sin. You need to be more invested in me than a teacher at school or the coach of my team. You need to be the most significant voice I hear: because I am going to be who or what my greatest influence is. So if I am going to be a dedicated, growing Christian, I need you to be dedicated to me. You need to have more influence in my life than just checking up on me on Saturday and taking me to church on Sunday. Come to my games. Come to my plays. Take me to the park. Send me a birthday card. I will follow someone, and it will be the one who takes the most interest in me.
– Remember I'm In A Pit:
Even if it's not my own pit, I'm stuck in the mire. I live in a non-Christian home in an unchristian- world. My parents have not set me up for spiritual success.
Psalm 40:1-3 "I waited patiently for the LORD; and he inclined unto me, and heard my cry. [2] He brought me up also out of an horrible pit, out of the miry clay, and set my feet upon a rock, and established my goings. [3] And he hath put a new song in my mouth, even praise unto our God: many shall see it, and fear, and shall trust in the LORD."
– Remember I need direction:
I need someone to point me to the Lord so that He can establish my goings and put a new song in my mouth. I need a new foundation upon which to build my life. I need you to know that I am a sheep among wolves. Sometimes even my family and friends are wolves; they try to devour me and squelch my excitement. I often have to choose between church on Sunday or going to do the one fun thing that my family wants to do this week; they are at the same time. If I'm ever going to go forward for Christ, I need someone to fight for me in prayer and be there for me in my darkest days.
I am more than just a Sunday only commitment. Please don't give up on me. I need you.